HiFi Crowd Get Ears Opened!
Driving Sounds and Source Sounds Sheffield Attend North West Hifi Show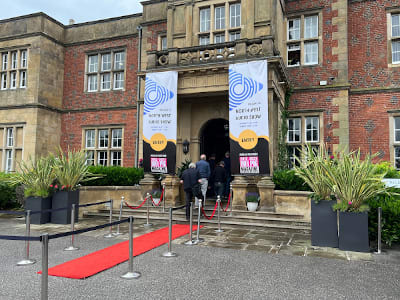 This year's Northwest HiFi Show was highly anticipated. As has been the case for the past four shows here at the De Vere Cranage Estate, FOUR MASTER Source Sounds, Sheffield were in attendance assisted ably by staff from high-end car audio distributor FOUR Car Audio and Driving Sounds Magazine.
This year there was a nervous anticipation as this was to be the first post-COVID incarnation of this show, But there was no need for concern. The show was packed!
The Car Audio Industry has always had a somewhat tricky relationship with the Home HiFi crowd. Largely due to the respective media coverage of each specialist area. This should never have been the case as we are linked by a common desire - Good music reproduction in our intimate listening environments! However, for whatever reason, Hifi journalists persist in looking down on car audio, mostly living in total ignorance of what we are capable of.
Fortunately, Specialist installers like Source Sounds are ready, willing and able to help dispel any myths that are passed on to fans of music.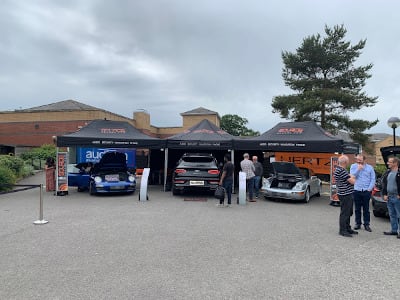 Source Sounds had a number of cars on display including a new Bentley Bentayga belonging to a customer. This uses Hertz Mille Legend speakers up front offering a dynamic hard-hitting yet pleasingly musical sound. The customer's chief criteria was that the car remained as "stock" as possible and it would be difficult for the trained eye to see where Source had been.
At one point of the proceedings, the car was demonstrated to an employee of Bentley who of course know's the flaws of the standard system. He was extremely impressed, to the extent that he was asking about having an audio upgrade carried out in his personal car (not a Bentley!).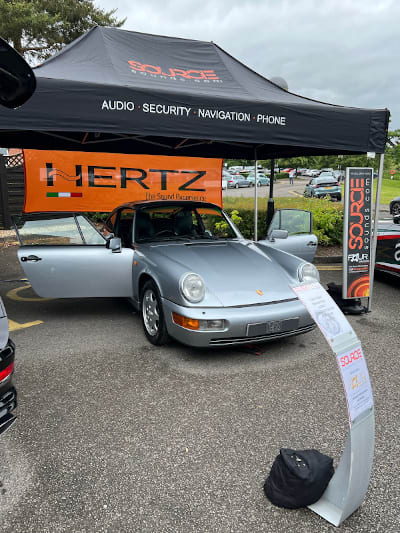 Once again our trusty Porsche was wheeled out. A classic car always catches attention, however, this one is equipped Audison Thesis speakers and an Audison Voce amplifier. once again, the installation is respectfully carried out and fits in perfectly with the existing aesthetic of this fine classic. (read more about this car and its audio install here)
A key feature to this audience was an Audison B-Con hi res bluetooth streamer. This allowed visitors to stream their own Hi Res tunes from Android phones.
Audison B-Con is the world's first Japan Audio Standards (JAS) accredited Hi Res Bluetooth streamer although this is only the case with Android phones equipped with the LDAC digital to analog convertor.
Proprietor of Source Sounds Paul Ellis said: "We love this show. To most who are persuaded to sit in a car, it is their very first taste of proper HiFi sound in a car. Nearly all enjoy the experience and leave us with very positive comments."
You can request a demonstration by filling out the short form at the end of this article.