Belting Beemer
Shakey gets arty with Bruce's Beemer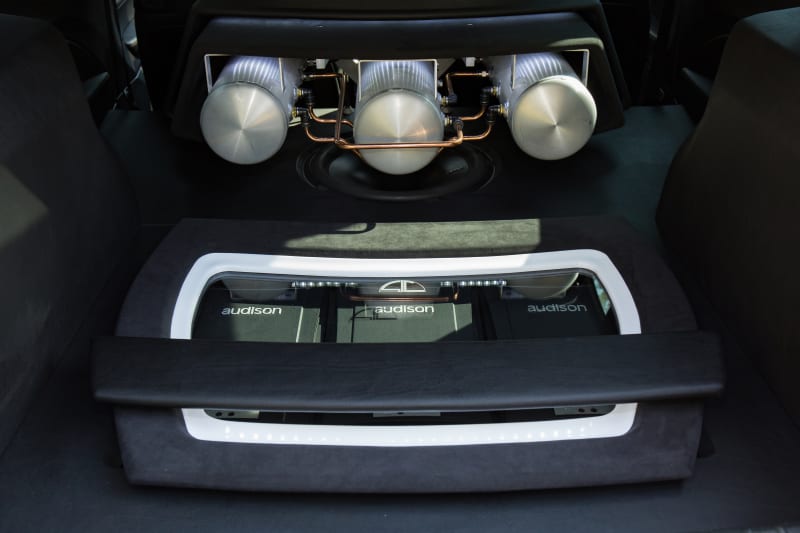 Bruce Gowans is an unapologetic audiophile. As with most who listen deeply, his musical taste is very broad and his pursuit of musical high points, relentless. A long time fan of Driving Sounds Magazine, Bruce now has a car audio install with which to continue his quest for audio excitement.
I first came across Bruce in June 2014 when he submitted a cracking Top Five for inclusion in a monthly newsletter I send out to Driving Sounds Club members. Anyone can join the club by the way, it costs nothing and previews the content of the next issue of the magazine as well as providing occasional prize draws, special offers and of course, member's comments and Top Fives – Go to our website: www.drivingsounds.co.uk and sign up. It is completely harmless and you can unsubscribe at any time leaving us with just the slightest of emotional wounds!
Bruce was very interested in two BMW One-series demonstrators we featured in issue III, as he was about to invest in one himself although, as it turns out, his plans were far more grand than ours! All we aimed to do was to demonstrate the difference between the appallingly ordinary stock audio system and a fairly modest system we had installed.
Since then, Bruce, a contract mechanical engineer by trade, has not only had his audio upgraded, but has created a fantastic audio experience complete with West Surrey Racing BTTC body kit and 1976 Frank Stella influenced BMW art car finish!
It seems that eclectic taste in music happens as one begins to delve deeper than the chorus, the guitar solo, the lyrics and the stylish trousers worn by the singer of a piece of music. When listening deeply a complete panoply of audio experiences and stimulations is unleashed capable of carrying the listener way beyond the sometimes annoying fad, fashion and face of the piece and right into the heart of the matter. The combination of many, often very different, musical elements which sum to deliver emotion and especially pleasure to the listener can for some, become an obsession. The desire to unpick a favourite song and analyse its component parts is compelling and in order to make that easy, the reproduction has to be capable of revealing all of these musical elements.
Bruce has been a music lover for as long as he can remember and took up the quest for sonic perfection as a student when he invested, extremely wisely, in a Linn turntable-based hifi system. Bruce, is currently edging toward the end of his forties and still hooked on great sound. He tells me; "my Dad was mad about music and Jazz in particular. Jazz music is all about virtuosity and reproduction that remains as faithful as possible to the original sound in a venue or recording studio. Most Jazz is recorded live rather than the layered approach with multiple overdubs, a feature of modern Rock and Pop music, and I like its imperfections as much as the on-the-edge performances of the musicians involved." At this point, Bruce played me a track from The Bach Book recorded by the Jacques Loussier trio. Jacques Loussier is the pianist and composer responsible for the Hamlet TV adverts of the 70's, 80's and early 90's and carved a great career from reimagining classical music and in particular Bach, in a jazz style. My father liked him too and so I was aware of his work from my own childhood. I met him once whilst working in pro-audio land and apart from the smelly pipe odour which followed him around then, I found him to be a perfectly affable and friendly Frenchman who wore a stereotypically jazz-style corduroy jacket with leather patches on the elbows! As it happens, the piece Bruce chose to play me was Bach's Brandenburg Concerto No. 5, 1st movement (Allegro), which I studied at music O-level when such things existed! Anyway, we digress. The file Bruce played me was of Apple lossless persuasion, rendered directly from his iPhone. From the very first note, I was completely awestruck. I literally couldn't move or speak for the entire ten minutes and 39 seconds that the piece lasted for. Even the drum solo at around four minutes was totally captivating and so live, you could almost hear the drummer breathing amongst the richest deepest tom toms and kick drum sounds I can ever remember hearing. The reverb on the drums was extremely noticeable and the cymbal hits so crisp that they offered perfect accompaniment to the virtuoso piano playing and the exciting double bass that holds the whole track up! During this wonderful moment, Laurence, our photographer of the day, knocked on the window to ask us to move the car (something to do with trees and light) I refused by the medium of a rather rude finger gesture (sorry Laurence!) and made him wait until the end of the track before getting out of the driver's seat and allowing Bruce to move the car for him. I think Laurence could tell that I had experienced something truly astounding!
I needed a rest and to collect some more general information about the man and his car. I asked Bruce about his early driving experiences. His early car audio adventures involved replacing factory head units with aftermarket ones and adding a small amplifier and some large speakers cut into the rear parcel shelf. His first experience at the hands of a professional however, was in 1989 when he took his Ford Fiesta XR2 to an installer in High Wycombe, but he has done little to subsequent cars until now and instead, spent a lot of money on home cinema including a 50" Plasma screen and B&W 800-series speakers! His motivation throughout was to try and reproduce the quality of his classical music conductor and vocalist father's home hifi system and to provoke happy musical memories from his boyhood. Incidentally, Bruce's first ever single was Hell Raiser by "Glam Rockers" The Sweet. He still has this squirreled away somewhere.
I asked Bruce about other musical influences and he admitted that he has never been much of a gig-beast as he has never really experienced good sound at larger venues. This is something I can totally get, although he does have great memories of seeing Roachford at the Marquee Club in London where the sound was "very good indeed!"
Bruce chose to take his own BMW M1 to the very capable Carl "Shakey" Shakespeare of Studio Incar near Southampton. Carl is a music lover himself and deserves his reputation of being one of the nation's finest audio installers.
"I dropped the car off in January 2015 following many discussions about what I was looking for in this car." Bruce explained; "I wanted to go for high quality, using some of the best components I could afford. I was already a consumer of HD audio from both HD Tracks and Quboz and own a burgeoning collection of these. We eventually based the installation around Audison's bit Play HD, feeding in to a bit 10D and then three Audison VOCE amplifier. Speakers are Hertz Mille, with a 15" Energy subwoofer and Mille 7" woofers, 3" mids and 1" tweeters in custom door builds."
In this particular install, the tweeters and woofers share an Audison Voce Quattro 4-channel amplifier whilst the mids are driven by a second Quattro bridged. A mighty Audison Voce Uno looks after the 15" Hertz Energy ES380.5 subwoofer. The signal chain from head unit to amplifier input is totally digital and although difficult to define a characteristic sound of this approach, it is clearly the route to the purest audio reproduction you can ever hope for.
I just had to listen to more music to ensure that my initial experience was repeatable and not just the product of listening to my own far more modest system on the way to the photo shoot. I do not advocate flicking through multiple tracks when auditioning. I would much rather listen to just three or four tracks in their entirety, as I believe this gives a better impression of how a piece of music is interpreted by a system. However, there is so much music and so little time and I wanted to throw bombs at this system to try and find its failings. Bruce selected Norah Jones' "Don't Know Why", which is an audiophile staple. It sounded pristine. Norah's husky, syrupy vocal is almost too sweet for my tastes and I always feel I would like to hear her voice crack now and then with effort as there seems to be very little required of her to make this sound. Moving on, I listened to a HD FLAC file of a James Taylor track from his 2015 album "Before This World". The track is called "Snowtime" and I was heading straight for the chorus where there are some fantastic percussion sounds buried deep in the mix. One such instrument is a Guiro, a hollowed out gourd that when stroked with a stick, makes a sound like a frog. This is low in the mix but I could hear it as clear as day. There is also a very low pitched drum which again is well down in the mix but sounds like distant thunder or a nuclear explosion in this car thanks to the controlled movements of the 15" subwoofer adding a hugely dramatic effect to the track.
We also listened to (amongst many other things) a couple of Gregory Porter tracks once again from a HD source. I could easily identify the use of brushes rather than sticks on "Hey Laura" as well as the tambourine that sounds in sympathy with the hi-hat and a slightly odd but very human vocal artefact at around 2 minutes. "In Crowd" from the same source revealed a lot of percussive sounds that I had not previously heard and the piano sounded fantastic! I could have gone on listening for the rest of the day so absorbing, articulate and perfectly balanced was the sound and I was quite sad to leave Bruce and this fantastic example of what can be achieved sonically in a relatively small car interior. Finally, Bruce lamented; "It is a real pity that most people do not realise just what is possible in car audio these days both in terms of the sound that can be achieved and also the fact that equipment can be hidden away and removed at the end of a lease period for example and fitted once again in the next vehicle. It is a real shame that people simply put up with factory audio."
Hear, hear Bruce! We totally agree with you and offer huge thanks to your vision, your ears and your wallet for taking this car to completely new levels of audio perfection!
Bruce's Top Five Driving Sounds
Brian Eno - This
AWOL Nation - Sail
The Staves - Facing West
Ukulele Orchestra of Great Britain - Bang Bang (Yu Yu Ma Chill Out Mix)
Gregory Porter - Hey Laura (24 bit, 96 kHz)