We're All Going on a Busman's Holiday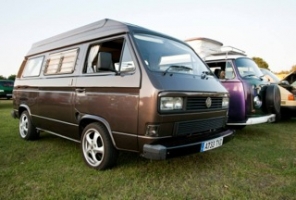 Stuart "Stuey" Crombie from FOUR MASTER Accutek in Winchester is a lucky man. He is also a very clever man who spends a good deal of his working life pursuing his hobby. Stuey is what could be described as a VW Transporter nerd. He knows just about all there is to know about this series of design classics and unlike others who share his passion he is crazy about the entire genre not just splitties or bays or wedges but all of them.
With such a depth of knowledge and experience it is no real surprise that despite specialising in audio installations, he is increasingly asked to undertake VW camper van refurbishments and we are not talking about a lick of paint and repairing a leaky tap here and there - Stuey takes them down to their component pieces, refurbishes every component and lovingly puts them back together, modifying any flaws in design or construction out of them along the way. Well, he does draft in help from favoured suppliers for assistance with upholstery and other specialised areas but he does design and project-manage and carry out a lot of fabrication work himself.
I was lucky enough to spend some time with Stuey and his own previously unfashionable T25 in the summer of 2013. On the face of it, his own vehicle seemed like a stock T25 Auto Sleeper in good condition but obviously not in its original livery. But a quick tour around the interior revealed the extent to which this vehicle has taken over Stuey's spare time. Pretty much everything has been changed or modified in some way and of course, a fabulous system installed.
As yet, I have not really had the time to give the audio system a good going over and in fact, Stuey being a perfectionist is reluctant to let me photograph or listen to it until he has had his front seats re upholstered and the audio system upgraded and trimmed. Having listened to other installs from Accutek, I can guarantee that when I finally do get to listen and report it will be one of my favourites!
Look out for Issue 4 of Driving Sounds Magazine to read a full review of Stuey's T25