Ultimate Dubs - Feature My Car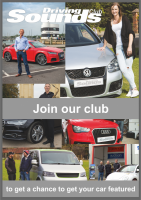 Driving Sounds is the UK's only dedicated magazine for lovers of car audio. We are always on the look out for gorgeous-sounding vehicles to cover in future issues of the magazine. Join our club by entering your name and email address in the box. We will invite you to submit your vehicle for selection for a feature in a forthcoming issue.
Thank you for visiting the Audison stand today.