Top Tesla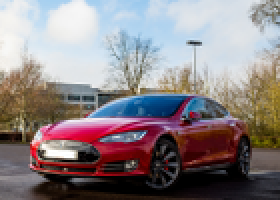 Do Androids Dream Of Electric Sheep? was a novel written by a sci-fi writer called Philip K. Dick in 1968. It was the book that the movie, Blade Runner, is based on and the same author wrote many challenging stories about how the future may look. Many were dystopian yarns with hidden warnings about how technology would someday overtake the need for human beings. This still hasn't quite happened yet (apart from in the banking sector - "Computer says no!") and most of us seem to be regularly called upon to put some effort in to make machines do the most basic of things.
Had he not died in 1982, I wonder what he would make of the Tesla. To my mind it pushes the automotive world to the max. Although I am not yet ready to put my life entirely in the hands of a machine, there is no doubt that as an accumulation of technological know how, it is a realisation of many of the boyhood dreams I had (except for the ability to fly of course).
However, one area that has not changed is that of in car entertainment which in this car, is not actually very entertaining at all. Yes, there is a fancy control surface that looks like a tablet and you can stream tunes from Spotify although not 320kbps. Speaker positions and quality are as rank as they are in any other car, which is great for the car audio aftermarket providing that we do not over do the power draw. It would be awful if the Tesla slowed down proportionally to the sound level coming out of the audio system or that the range dropped by 50% or something.
Fortunately, we have the best minds at work in the aftermarket. Minds agile enough to come up with ways to minimise any negative effect on the power unit. This coupled with the comparative quiet of an electric motor over an 8-cylinder petrol engine means that we have as much if not more scope to establish a really nice sound stage in the vehicle.
This has already been achieved in this vehicle by Simon Longmuir, one of several ace installers at FOUR MASTER, John Kleis who helped specify and then installed the equipment in this vehicle. Much of the work is similar to that on a normal car including the copious amounts of sound deadening used in the doors. However, Simon did choose to utilise Audison Prima amps due to their power management systems which help to avoid heavy transients in current consumption via some clever Italian thinking!
The result here, is a car that sounds exceptional. The Mille Legend speakers used up front literally fall into the factory positions that even accommodated Mille Legend MP 1800, 7" woofers, without too much of a fight. Originally, this was thought to be able to save giving up space for a separate subwoofer in the luggage compartment however, things got a little out of hand and people got a little carried away with "pushing the envelope" and ultimately, a subwoofer and dedicated monoblock amplifier were employed.
At this stage we are not going to give too much more away however, in response to the increasingly often asked question; "Do audiophiles dream of systems in electric cars" the answer is a resounding yes! Can it be done? yes, yes yes!
Read the full feature in issue VII of Driving Sounds Magazine due out in April/May.