T4 Two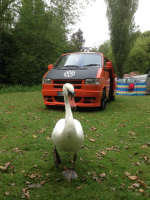 Helena Bennett and husband Lee have spent three years lovingly converting a T4 workhorse van into a camper van for leisurely jaunts into the North Yorkshire countryside where they live as well as trips over to mainland Europe. They knew what they needed next, some driving sounds to help them on their way.
When Helena came across the Driving Sounds stand at last year's Goodwood Festival of Speed she immediately noticed that we had two complete systems up for grabs. All she had to do was sit in our two BMW 1-series demonstrators and tell us which one had an upgraded aftermarket sound system fitted to it. Easy? Well, she did have to wait a number of months and hope that her name would be pulled out of a large hat containing many names but guess what? She won an Audio Joy system. Helena was thrilled with the result as she claims to have never won anything before. We selected her closest FOUR MASTER (Kingston Car Sounds, Hull) and the vehicle was delivered.
At the time of writing, Helena has still not yet heard the system but featuring a Hertz HCP 4 four-channel amplifier, a pair of Hertz ESK 165 2-way components and a Hertz F20 subwoofer in a custom enclosure, I think Helena and Lee are going to love the result. This particular Audio Joy package has sold in droves this year and is quickly becoming the system of choice for those who want a real tangible improvement in their in car sounds. The subwoofer box featured in the picture was covered in an orange material to match the exterior however, we have all had second thoughts on this now and the subwoofer is currently being re covered in a more traditional black, which is why Helena and Lee are yet to hear their prize.
We will update this information with some direct quotes from Helena and Lee once they have their prized vehicle back and look forward to sharing them with you. In the mean time, Helena has offered the following top five tunes for driving to. It will be interesting to see if these change once Helena has lived with the system for a while.
Rudimental - Not Giving In
Kodaline - Love Like This
John Newman - Losing Sleep
The Lumineers - Ho Hey
Chase And Status - Count On Me