Snakesounds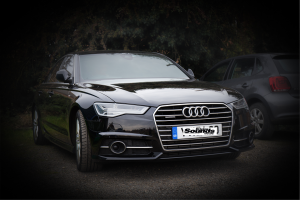 Meeting a musical superstar is both a pleasure and an honour. A musician for me is someone who has worked hard on their art and developed a unique musical personality. This can certainly be said for ace saxophonist, Snake Davies who performs and records all over the world alongside the truly talented, rich, and famous whilst maintaining a humility and confidence of one dedicated to his art.
I was lucky enough to be invited to listen to Snake's Audi A6 in which he covers some 40K miles per year! Music is his passion but also his life and as such he needs to listen to good quality sound everywhere he goes. After hearing an "audio upgrade" at his car dealership, he decided, quite rightly, to go to the aftermarket to satisfy his need for quality listening. Following a good deal of research, he found himself at Source Sounds in Sheffield. There ensued a deep email trail as Snake described what he needed and Source told him what they could do. Every step of the way, Snake researched in the background. I guess the benefit of a life in recording studios offers the perfect opportutnity to check out what was being suggested. With Source Sounds on the case, he was in very safe hands and ended up with a stunning system in his car.
His budget was not endless but his demands for sonic purity and engaging sound were. Fortunately, FOUR MASTER Source Sounds were able to tick all of the boxes and then some. Source Sounds delivered a system based around the very excellent Hertz Mille Legend 3-way component speakers, a Hertz Bass Baby 8" subwoofer in an enclosure and two Hertz HDP 4 amplifiers. He was keen to stick with the standard Audi head unit as it works fine and offers functionality that he enjoys. The audio from the head unit is first fed into an Audison bit ONE processor. This allowed Source Sounds to ensure the sweet spot for listening was suitable for the many miles of solo driving Snake undertakes during his normal working life. The processor also allows for fine adjustment of equalisation - essential to overcome some of the inherent issues with car speaker placement.
There are many features and examples of attention to detail in the system that you will have to read about in issue VII but for the time being, here is our impression of one of the tracks Snake suggested we listen to:
Red Rain – Peter Gabriel
From his most famous album "So", Stewart Copeland of the Police plays a hi-hat intro joining regular go to drummer Gerry Marotta. The tinkling piano with heavy reverb serves as a warning to those who know the track, and the bass and keyboard stabs make even more obvious the mayhem which is about to be unleashed. At 27 seconds explosive thunderous bass joins the tinkling Red Rain and the track proper has begun. The drama of these opening few bars is such that I went back to the beginning turned it up to 11 and listened again. I was a little worried at first that I had overcooked it and would experience distortion. But despite the sound hitting me like a 40-foot North Atlantic wave on a beautiful sunny day, there was none and every instrument was articulated perfectly despite the high level. I did however back the volume control off to a more reasonable listening level, as there is absolutely no need to be listening loud in this car. Even at very low volume levels, the finest detail can be heard. I love Peter Gabriel, and I love this track and urge you all to get a system upgrade in your cars and enjoy it to full effect. The wind down at the end of the track exposes the full emotion of Gabriel's vocal and helps to return adrenaline levels and blood pressure to safe limits.
Read all about it in issue VII due out March 2017