September Secret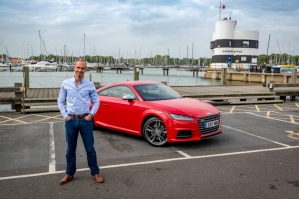 September Secret
This brief extract is provided exclusively to Driving Sounds Club Members. It comes from a four-page article that will appear in the next issue of Driving Sounds next spring.
Ricky Mills is no stranger to car audio. He discovered many years ago the wonder and excitement that comes from having a proper sound system in his car. In fact the majority of the equipment featured in his new Audi was transferred across from his previous car, a VW Golf VI. It is well known that I am a huge fan of Audison Voce speakers and auditioning Ricky's Audi TTS was a moment of re affirmation for me. The full equipemnt list is:
Audison Voce AV 1.1 - 28mm Silk Dome Tweeter
Audison Voce AV 6.5 - 165mm Mid-range/Woofer
Hertz HDP 5 - Five Channel, Class D Amplifier
Audison bit TEN - Digital Signal Processor
American subwoofer in Q+ sealed enclosure
Skinz Sound Treatment
Installed expertly by FOUR MASTER Accutek in Winchester, but more of that when the article is released in full. I was particularly taken with the way the following track rendered. The precision and emotion balanced perfectly to create a most "real" experience.
"...I selected the acoustic version of "You Oughta Know" by Alanis Morrisette. This track was on Ricky's original top five driving sounds list when we featured him in a Driving Sounds Club mail out. The track begins minimally with an acoustic guitar panned left. It sounds absolutely crystal clear and is joined by a very live-sounding drum kit, although only side stick snare and occasional kick drum beats are used at this stage along with a bass guitar note in every other bar and some not very acoustic but beautifully modulated Fender Rhodes piano. The vocal enters at around 24 seconds and is so real I look to see if Alanis has jumped into the car next to me – Sadly, she hasn't! Everything pauses for a couple of bars at 43 seconds and then Alanis hits the higher registers and the musical accompaniment steps up a gear with the introduction of a second acoustic guitar. At 1:03 the chorus kicks in with busier drum and bass accompaniment but without compromising the acoustic promise. The guitars at this point are strummed rather than picked. This helps the track move along. After the lively and emphatic chorus, the acoustic guitars and other instruments calm down again and peace is restored. This has the effect of emphasizing the lyrical content that talks of the emotional torment of a lost love hooking up with another lady. The profanity during the second verse made me blush in a way that a rapper's expletive-ridden aggression could never manage! The piano returns during the second pre chorus although it seems to be an acoustic piano this time. I only mention such details as I can hear them all perfectly and with astonishing clarity. I have to move on now..."