S-Club 7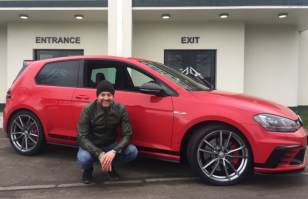 Don't be fooled by the hat, the fella pictured above hasn't just stolen this precious and rare example of a VW Clubsport S (one of less than 30 in existence in this colour). He is in fact, enthusiast and contributing journalist to VW Driver Magazine, Simon Harper. Regular readers will know that I am no car buff and was appalled to discover that this world-renowned family car actually has no rear seats fitted to it even though it costs considerably more than a standard Golf! - Apparently, this is a very good thing so I will leave all the car stuff alone and instead point you toward the forthcoming issue of VW Driver Magazine. Here you can read all about the car and the Audison Prima APSP G7 kit recently installed to it by FOUR MASTER Karl Ward of Ultimate Audio in Bromsgrove.
In the meantime, Simon was kind enough to furnish us with some feedback shortly after the install took place. We have pasted this below by way of an inside track!
"I have been driving my Golf R over the weekend and it's interesting to compare its factory upgraded Dynaudio system against the Audison system in the Clubbie (Golf Clubsport S). Dynaudio is significantly better than the Harman Kardon systems I've experienced in new BMWs. However, I was genuinely shocked by how much better the Audison system was over the Dynaudio.

I'm certainly no audiophile but anyone would notice how much more rounded it sounds. It's not about big bass, although there's real depth, it's the range and richness of sound that really impresses. Good sound is as much about getting the higher frequencies right as anything else and that's often forgotten in the pursuit of a 'bigger' sound.

From a cost perspective, the Audison system is comparable to a manufacturer upgrade but it's clear that the quality of the components is in a different league. My eyes have truly been opened to what good sound is in a car, it really is that good.

The overall experience is no doubt enhanced by the sound deadening fitted inside the front doors. This is a standard part of the fitting process by a FOUR MASTER installer. Karl at Ultimate Audio in Bromsgrove did a top job on my car. I was really impressed by his attention to detail and, although my car is nearly new, I was not at all concerned."
Hmm, I thought I saw him whince just slightly as Karl drilled out the rivets from the factory fitted paper and plastic abominations! But a great appraisal in my opinion and another example of how enthused people are once they have listened to proper audio in a car! - Many thanks Simon.