Parr For The Course Part 2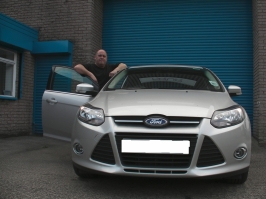 As promised, here is part 2 of our sneaky-peek of a project we are currently working on for the next issue of Driving Sounds Magazine.
But first, a quick recap for the benefit of those who forgot to read last month's initial piece. Tony Parr is a close personal friend of Brian Parton proprietor of high-end car audio distributor FOUR. It has been an ambition of Brian's to convert Tony from a "passive" listener in his car to a more active one to see if a good system upgrade would help lift Tony out of his listening rut. The musical rut Tony is stuck in was exemplified by his choosing no less than three tracks in his Top Five Driving Sounds by Muse last month!
Tony's Ford Focus is a utilitarian vehicle used to transport himself to and from work and his family to wherever they want to go! Having met him, he is clearly proud of his Ford Focus although shows no real sign of being a car enthusiast. His car was chosen for its reputation for reliability as well as economy but that is OK and does not preclude a desire for a music system he can actually enjoy listening to.
Moving on, we have now had the car installed with a pair of Audison Prima APK 165's. These slim-fit high-tech replacement speakers were chosen because of the extreme ease with which they will integrate with any car. They also contain a lot of new technology designed to optimise performance even when fitted to often extremely restrictive factory speaker positions. One example of this is an acoustic lens fitted to the tweeters. This helps to de emphasise the disturbingly distracting high frequency humps associated with poorly designed tweeter housings and grills while a unique triple wave surround on the woofer helps to ensure linear performance even at high bass levels.
As we like to practice what we preach here at Driving Sounds, the front doors were smothered in Skinz sound deadening and wave diffuser to ensure an environment more conducive to producing good audio than the biscuit tin-like qualities of untreated car door panels. The work was carried out by FOUR MASTER, Ultimate Audio in Bromsgrove under the careful and skilful auspices of demon installer Karl Ward. On completion of the work, Brian collected the car and rang me immediately to fire off a couple of profanities, which I took to suggest a positive outcome from Karl's work. Brian is always very enthusiastic about the products and services he provides and so this was no surprise to me and it was actually Tony's initial thoughts that I craved. These are described in Brian's words below:
"Tony text'd me after he returned from his holiday to say that he had a problem with the central locking and that we must catch up. I was a little disappointed about this as an opening comment but knew that this issue was probably just a trifling matter requiring some programming of the central locking system. When he finally called he just said; "Oh my God, this sounds amazing!" He went on to tell me that he had just given his 19-year-old daughter a lift and she asked what had happened to the car as she was so amazed by the difference in sound. Finally, following a lot more enthusiastic descriptions of his first impressions he admitted to having just driven past his house as he was listening too closely to his new speakers!"
We are clearly delighted at Tony's reaction. I have to admit that I was not as convinced as Brian that Tony would "get it" but the far more commercially experienced Brian explained that this is very typical and that although Tony would never have gone for an audio upgrade of his own volition, now he has experience of what it can do for driving pleasure he is very likely to upgrade his next vehicle as a return to factory-fitted mediocrity will never be good enough for him.
Next up, we plan to further upgrade the system by adding an amplifier and some bass reinforcement. Upgrading speakers alone is a great start however due to the poor design of factory fitted head units, a great deal of distortion (more than 20%) can be experienced when listening at over two thirds volume level and this can destroy speakers no matter how good they are. An amplifier will ensure that when Tony develops a taste for a high-energy musical "livener" that he will be able to do this without damaging the speakers.
We are fully committed to doing this without affecting the look and functionality of the vehicle and look forward to bringing you the results as well as having another go at extracting a Top Five from Tony to see how quality has affected his taste!