On The Road Again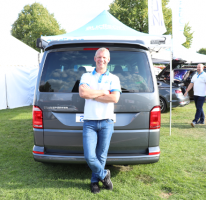 Brian Parton is Managing Director of car audio distributor Four Car Audio. He is responsible for bringing some of the finest specialist car audio brands into the UK. These include; Hertz, Rainbow, Eton, Audison and Audio Control amongst others.
Before setting up FOUR with business partner Jas Dehele, Brian had already gained a good deal of experience in the car audio industry working with a specialist installer in his home town of Birmingham before taking a sales role with Hirschmann. Next he joined Focal JM Lab where he met Jas.
Over the years, Brian and I have spent many a happy moment sat in cars at shows sharing music to the extent that we now have an almost telepathic understanding of each others tastes. So it was with great excitement that I joined Brian one morning in Nottingham for a road trip to Scarborough. We were to travel in his new demonstration vehicle, a spanky new VW T6 with plenty of bells and whistles including a magnificent sounding audio system.
The freshly installed system comprises a pair of top-of-the-range Eton C2 2-way component speakers up front which are blended magically with a Rainbow Profi PLS-10 subwoofer - This sits in a custom made enclosure installed under the centre console and trimmed to match-in perfectly. There is a pair of Audison Prima APX 4 coaxial speakers fitted in the rear passenger for some rear fill and to entertain occassional passengers. These are driven by a bridge Audison Prima AP4 D amplifier. The front speakers are driven by the mighty Audison Voce 5.1K 5-channel amplifier while an Audison bit Nove keeps everything in check and adds a myriad of sound tuning and shaping aids.
Despite the distance between the tweeters and woofers, the bit Nove has managed to knit the sound together perfectly. The sub bass is perfectly controlled. Overall the balance and postioning is spot on for my tastes and I was in the pasesenger seat!
We must have listened almost solidly for five hours which included added time for when the music carried us beyond the junction we should have taken off the M1! During this time we covered many musical genres including: Rock, Jazz, Funk, Acoustic Guitar, Country and others. The sound in this vehicle is astonishing. Despite the vacuous space inside, the image and clarity made listening a very intimate experience and there were many gaps in our conversation while we just listened.
All-in-all, we both had a fabulous day and will definitely contrive ways to repeat the experience sometime.
The full article will contain a lot more detail than this potted report and we look forward to bringing it to you in issue IX of Driving Sounds Magazine early next year.