Nice One Nissan!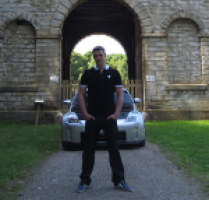 Barnsley born Stephen Szarvas is just 34 years of age. This affable Yorkshire man is as quietly spoken and polite as he is enthusiastic about his car. Fortunately for us, Stephen has been a car valeter for 10 years and so our hearts leapt on seeing his pristine Nissan 350Z crouched and ready to pounce outside Source Sounds where we had agreed to meet. I had checked Google maps for some green open spaces in the area we could try to find a suitable location for the shoot, but the amazing Stephen suggested we look at nearby Wortley Hall.
When he got the Nissan he was immediately disappointed by the poor sound quality of the stock system. This lacked bass, clarity and suffered all the other major flaws of every factory installed "entertainment" system. The deep exhaust note of this high performance car, would completely overwhelm the system when driving for fun and he wanted to be able to enjoy a bit of dub step and hip-hop while he and partner, Lisa cruise around.
With many cosmetic and performance changes planned for his vehicle, Stephen was "budget-conscious" and wanted to squeeze as much sound quality as possible from his spend. He wanted enough bass to overcome the exhaust note but was keen on a smart integrated solution. This he found by way of a bespoke bass box from a company in Florida, The Sub Box Shop (I wonder what they make?). The enclosure fits seamlessly behind the bulkhead to the rear of the vehicle and accommodates a 250mm subwoofer. Stephen opted for Hertz Mille Pro MP250D4.3 as recommended by Lee at Source Sounds. With the rear hatch down, the sub remains out of sight of prying eyes but a gap between the top of the bulkhead and the passenger space means that the two spaces are directly and acoustically connected. In order to get the most from the subwoofer Source installed an Audison Prima AP 1D monoblock amplifier. Capable of delivering 310 Watts RMS to the subwoofer, there is no shortage of bass in this compact car!
Stephen is not a typical bass head and sound quality was also part of his specification. Source recommended Hertz Mille Legend MLK 165.3, 2-way component speakers. an Audison Prima AP 4.9 bit amplifier was stacked with the AP 1D in a small hole in the rear bulkhead that looks like it was designed to house a factory fitted subwoofer. The 4-channel amplifier is running bridged and drives the MLK 165's passively with matching Hertz crossovers securely mounted in the doors.
It is early days for this system, but it already performs exceptionally well. Frighteningly, I feel there is still more to come and in FOUR MASTER, Source Sounds, Stephen has found a very competent partner!