Ni Ka N'Tawapamaw (Heaven is the Prize)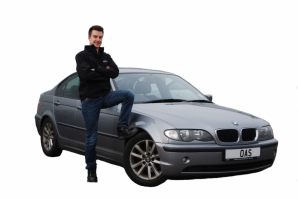 Driving Sounds Club members and avid magazine readers alike will know that we spent a good deal of last summer demonstrating two BMW 1 series to the general public in order to highlight the difference between a standard factory fit system and one designed and installed by a professional installer. Olly Samways came to see us and won an Audio Heaven system for his own car.
You may have noticed that we tend to get quite evangelical about after market car audio. We take our mission very seriously and this is what led us to offer up two levels of audio system to two entrants in a prize draw. Olly caught up with us at CarFest North, sat in both cars and knew straight away which one had been upgraded.
Olly told us; "I sat in the BMW's at Carfest North, and immediately knew the difference. The clarity of the different pitches from bass to high notes was amazing. You could hear every sound as if you had noise cancelling headphones on."
We asked Olly where his interest in music came from and if he had ever had a car audio upgrade before; "I had some 6x9 speakers in my first car to improve bass response. The marketing of these speakers was very brash but in fact the speakers simply boomed in an uncontrolled way exposing all of the rattles in the car and swamping all of the music content except for a narrow range of bass. My interest in good music reproduction comes from many live performances I have experienced from bands such as Paramore to Professor Green. The sound from standing at the front of a performance next to the speakers is something you only dream of being able to hear in a vehicle; and I now have this in my own car!"
When asked what features of the sound were the most remarkable, Olly enthused; "The most striking quality is the bass and how it complements the music and does not completely drown out the song entirely. You can hear every note with amazing clarity. I am already looking at having an Audison controller fitted to my BIT 10 so I can control the subwoofer independently, and also gain an AUX in function. Then I can listen to songs from my ipod, and also increase the bass when I have my bass head on!
Olly concluded; "Thank you so much for this prize, couldn't have hoped for anything better! Can't stay away from the car now, it is brilliant! I really am over the moon.
Tim and Norwich In Car Entertainment were brilliant too, will definitely keep in my contacts in regards to further audio related purchases"
You are most welcome Olly. It is always a pleasure to bring the joy of good quality audio to a music-loving driver.
Driving Sounds would like to offer a huge thank you to our friends at FOUR for the equipment and especially to Norwich In Car Entertainment for installing the system, tuning it and providing Olly with a heavenly experience.
Pitbull ft. Kesha - Timber
Afrojack - The Spark
Sub Focus - Tidal Wave
Avicii - Hey Brother