Mustang 66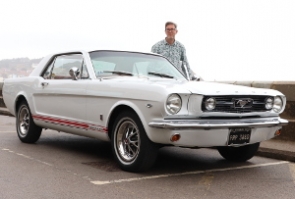 Scarborough based Bill Mathieson took delivery of his dream classic car in 2013. A 1966 Ford Mustang which was already in very good nick when he bought it and has remained his passion ever since. With a mixture of upgrades carried out by Bill and specialist work by professional restorers, Bill keeps his Mustang in concourse condition. This is somewhat unusual, as it is his only vehicle and he uses it to commute to his place of work in Luxembourg!
The story around how he came to acquire the vehicle is intertwined with bitter-sweet irony and coincidence, but we will leave the detail to the article we are currently compiling for the next issue of Driving Sounds Magazine. Our focus here is the audio system.
Bill grew up a music lover. His time playing the cello has given him a deep understanding of how music is put together and has led to an extremely broad taste in music. At home, Bill is a vinyl lover while in the car, he streams music playlists from an iPod. His enthusiasm for music led him to Source Sounds in Sheffield. His first contact was speculative. He wanted the car to sound great but needed the vehicle to remain true to its origins. This can be a very big ask when installing modern equipment especially into a vehicle built for mono rerpoduction from AM radio only! Naturally, Bill wanted to retain the orginal look and feel of the dash and so he sent the original OEM head unit off to a specialist company who gutted it and replaced all the internals with an AM/FM tuner and new amplifier module. His iPod streams to the head unit via an FM modulator with Bluetooth receiver - These vary hugely in quality but fortunately, Bill's is one of the good ones!
Source set about planning an install that would deliver great sound and enhance rather than detract from the vehicle. They discovered a large void behind the rear seats which was ideal for a boxed subwoofer with a pair of Audison Prima amplifiers sitting either side. This was perfect as the installation could be completely hidden from view. Front speakers were a little more tricky. Bill was keen that no original metal work was cut away and so any decent speakers would have to sit in kick panel builds with an angle established to help dig the sound out from Bill's feet and up towards his ears. These are so well made and covered with matching red leatherette that they look absolutely stock. Bill has reported that even other Mustang owners have failed to notice them at first glance.
Paul Ellis at Source was a little concerned that the front speakers may not manage to compete with the sheer throaty roar of the exhaust. His solution was to add a pair of coaxial speakers to a freshly made reinforced MDF rear shelf. Once again, Paul and his team were creating something from nothing and had to match trim to existing interior. This they have done magnificently well and the rear speaker mounts look like they have always been there, with their cream grilles and chrome surrounds perfectly in keeping with the rest of the interior.
Behind the rear grilles is a pair of Hertz Mille Pro MPX 690 driven by four channels of an Audison Prima AP 8.9 bit amplifier. Front speaker positions are occupied by a pair of Hertz Mille Pro MPK 165 driven by another two pairs of channels. The subwoofer is a Hertz Mille Pro MP 250 D4 driven by an Audison Prima AP 1 D.
We were very impressed with the sound initially given the shortcomings of both Spotify and then Bluetooth. However, after some explanation we tried streaming from Tidal. The difference was huge and the whole car came alive with music! - Bill has since contacted me to say he has completely moved over to Tidal now and is enjoying the sound in his car more than ever!
This car has to be seen to be believed. The installation is top quality and in keeping with the rest of the vehicle. We look forward to hearing from other music loving, classic car owners - It seems that classic cars and great audio are not mutually exclusive after all.