Mini Major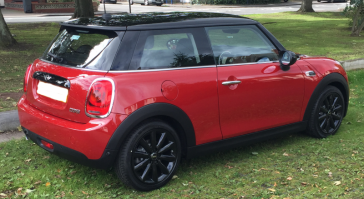 This month our look into the future involves a BMW Mini. This particular specimen has been prepared by FOUR MASTERS as a demonstration vehicle meaning that with a bit of patience, it is quite feasible for all of you to get to hear it (no pressure for me then!). FOUR MASTERS belong to a network of independent businesses and as such are able to access demonstration vehicles belonging to UK distributor FOUR. This vehicle will be with us at summer events next year including Goodwood Festival of Speed.
The Mini was chosen deliberately, as BMW are famous for failing to deliver to their customer's sonic requirments. The standard system offers poor speaker positioning as usual however, manufacturers such as Hertz, Rainbow and Audison have specifically designed speakers that cope very well with this these days, as they offer a very wide dispersion characteristic. FOUR wanted to be able to demonstrate a hi-res audio listening experience as well as show off their OEM integration expertise.
To this end, they opted for an Audison bit Play HD as a source. This device is capable of delivering 24-bit word length music with a 96kHz sampling frequency. It will play many formats including WAV, FLAC and even OGG Vorbis if you let it! Control is usually via a standalone infra red remote control or a natty little app on a mobile device. In this instance, the on-board display in the centre console has been tapped into and makes operation as easy and safe as with any other on-board device. The output of the bit Play HD is fed via TOSLINK to an Audison bit ONE HD signal processor. Here it is split into the necessary frequency bands and offered for treatment via a 10-band parametric equaliser, Butterworth or Linkwitz-Riley filters and time alignment on every channel. In this instance, FOUR stuck with the classic 3-way setup with a slight deviance which we will talk about later. Once processed, signal is sent via a bespoke high-speed digital connection to an Audison Voce 5.1K HD amplifier. At this point, Audison signals are still in 24-bit, 96kHz form with no noise and no distortion.
Audison TH 1.5 II violino tweeters and AV 3.0 mid range speakers are employed to look after tops and mids and if you have ever heard them, you will know what capable hands they are in! FOUR has stuck with the standard mounting positions for the mids but new A-pillar covers have been manufactured to house the tweeters on axis. This enables the tweeters to demonstrate their highly superb imaging capabilities as well as the "air" they seemingly use to seperate every high-end utterance - A key feature of hi-res listening. Bass is taken care of by a pair of replacement 8inch underseat woofers snaffled from a forthcoming Audison Prima pack. This is where the slight variation in system configuration comes in as these are wired in parallel and driven from the 1000 Watt mono output of the 5.1K HD amplifier.
I listened to a freshly finished version of this car and I felt that the mids could be worked a little harder and the bass a little less so, but I know this will be taken care of and probably already has been. The mids fire across the car at each other which is less than ideal but there was always a plan to put some angle on these to get them closer to on-axis, but also to reduce the adverse phase effects that can be generated by this crazy strategy.
This car already sounds very, very good and I know that when the speakers are fully run in and a few tweaks made, it wll sound fantastic. Watch out for the full story in the next issue of Driving Sounds Magazine. In the meantime, if you want to read up on hi-res audio, I would strongly recommend issue V of the magazine where we went into it in detail but in an easy-to-read style.