Mini Factory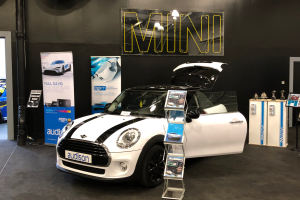 The Mini Plant in Cowley, Oxford is built on the site of an automotive heritage that stretches back over 100 years. It is thought to be the oldest car manufacturing plant in the UK. BMW acquired it in 1994 when they took over Rover and repurposed it to produce its then new Mini in 2000.
The plant has regular open days as naturally the incumbent owners are very proud of the facitlity. Our good friends FOUR were invited to take their own Mini along to an open day on Sunday 26th May. We asked co-founder, Brian Parton, to report on the day.
"The open day was due to begin at 10:00 but I had barely managed to set up my basic display when a good number of people already started to wander through, some 30 minutes before official opening. I was confident that our own Mini would prove a hit for a number of reasons. Firstly, it was featured in the current issue of Driving Sounds Magazine and the article entitiled "Mojo Mini" has sold in numbers giving us the idea that owners of these vehicles held an interest in taking the vehicle further than factory standard. Secondly, we have recently had our Mini wrapped in brilliant white vinyl while retaining the original black coach lines standard with the previous livery, and it looks stunning.
From 9:30 a.m. until 2:00 p.m. I was pretty much rushed off my feet giving demonstrations of the audio in the vehicle. The system (for those who have not read the article) is based predominently around Audison speakers and Voce 5.1K HD amplfier, although we have used under seat woofers from UPGRADE by German manufacturer, Eton. The most significant comments related to bass. We opted not to install a subwoofer in this vehicle. The UPGRADE speakers are configured to reach down low and naturally provide a great deal of punchy bass. One visitor, who has had a 15" subwoofer installed into the boot of his own Mini was unable to leave without giving the car a good "pat down" to find out where we had hidden a subwoofer. There isn't one, honest, it is just not required.
The car is fitted with an Audison bit Play HD hi res music source and the reproduction from 24bit, 96kHz renderings are a joy to hear. We have also fitted a matching bit One HD. This is a digital signal processor that handles digital input signals in hi res then hands them on to the hi res inputs of the amplifier with the final digital to analogue conversion happening right at the end of the signal chain.
Full range is handled by a pair of 3" Voce mids which are capable of reaching low enough to crossover to the under seats with no discernible dip or crossover distortion. Up top, we have utilised the very excellent Thesis TH 1.5 II Violino tweeters. These are also low reachers, providing high frequencies with an astonishing amount of "air" around them. This helps separate all sounds thrown at them. These are large tweeters and we have mounted them in custom A pillar tweeter pods with the intention of changing them back to standard once we are done with the vehicle.
It was extremely refreshing to be demonstrating to an audience with very varied tastes. People are far more open to music that is new to them these days and "shazam" was the "app du jour" in my experience.
Although planned to carry on until 4:00 p.m. things thinned out pretty quickly after lunch. By this time I had distributed a good number of magazines and taken contact details for many Mini owners interested in improving the sound in their own Magic Minis."
If you are interested in good quality listening and own a car, why not vist the brand new FOUR MASTERS website and see what can be done with your vehicle or ask for a no obligation customised quote. www.fourmastescaraudio.co.uk