M5 Fit For A DJ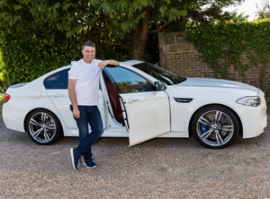 M5 Fit For A DJ
Trevor Trevett has been a DJ since 1983 and his need to surround himself with high quality music at all times has led him to having quite a system put into his car. In this sneaky-peek we get just a brief appetiser.
Trevor likes driving nice cars. He admits to having an interest that goes way beyond a passion and bowls on towards an obsession that has cost him lots of money over his lifetime. Unlike many who upgrade their audio (something Trevor has done since he owned a Ford Capri in the 80's), when I asked him about standard fit systems he suggested that he didn't hate them, but felt that most lack dynamics and sound "plain" – Of course, we would, and often do go much further than this in our description of standard systems in cars!
A BMW M5 has always been on Trevor's wish list even though he had previously owned an Aston Martin DB9. For the M5, he wanted to take the audio to new levels of fidelity and took it to FOUR MASTER Highdown in Worthing to receive the expert opinion of an old friend of this magazine, Jeremy Owen. Jeremy is a demon system designer and persuaded Trevor that he needed some high definition audio in his life (good boy Jez!). It was therefore, decided that Trevor should ride the rapidly swelling tide of the in-car digital audio wave with a full digital system designed around the bit Play HD music source from Audison. To accompany this exciting entrée, Jeremy prepared a main course of Audison Voce amplifiers (and AV 5.1K and AV Quattro) along with a set of 2-way Voce's up front, a Hertz Mille mid-range and two 12" Voce subs in a custom enclosure in the boot and an Audison bit One processor. Looking at the installation I was initially quite scared of the manic stare produced by the two 12" subwoofers. I know what just one of these babies can do, but two!
It was clear that Trevor liked his bass and he confirmed this to me during audition. He also mentioned that he craved high-end too and that he found mid-bass not so important to his tastes. On listening to the system initially, I have to say that I found it lacked dynamics almost as if we were listening to MP3's then Trevor said; "Hang on. We are listening to MP3's!" – Phew, the old lug 'oles are still working then! We slipped a CD into the standard BMW head unit and proper listening was resumed. As regular readers will know I am a big fan of Voce's. The relaxed and highly musical sound coupled with razor-sharp articulation offer the best of all worlds in my opinion and these attributes were clearly evident in this system. I was however, a little perplexed as to why the image was playing a little "lefty" and maybe a bit lower than ear height – These are relatively small issues but for a system of this sophistication and knowing the equipment as well as I do, it was clear that the system had been set for Trevor's specific tastes. I reached for the Audison DRC controller, which can be used to control some of the top line settings on the bit One processor including selection between four possible settings and my thoughts were confirmed. But as well as the set up, it was clear that there was some rear-fill coming from the rear passenger doors. This, I was later told, was fed from the full-range centre channel of the factory system and was causing odd anomalies with the sound stage. This had been specified by Trevor himself and it is not for me to criticise however, I would say that I prefer my music to all come from up front.
Once I properly understood how the system was configured and my brain had become accustomed to the sound stage, we listened and listened and listened and I would still be listening now if the photographer had not been keen to get home before his bedtime!
We will complete the full write up for the next issue of the magazine as the car features an incredibly capable system and there are many more things I would like to share with you all about the system and its proud owner.
Top Five Tunes
Hey Now – London Grammar
Heartbreaker – Led Zeppelin
Lucille (has messed my mind up) – Frank Zappa
Rolling In The Deep – Adele
Love Bird – James Last
Equipment
Audison bit One Processor
Audison AV 5.1K Amplifier
Audison AV Quattro Amplifier
Audison AV 1.1 Tweeters
Audison AV 6.5 Woofers
Hertz Mille ML700 Mid-range