Lohen Rocks MINI World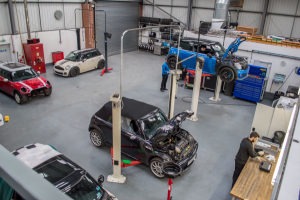 I was recently invited to independent MINI specialist Lohen in Staffs. to have a look around and sit in their demo car. Whilst there, I met Head of Sales, Mark Readyhough. Mark was most welcoming and very open about Lohen's work, of which he is clearly very proud. Established on owner Andry Maguiy's passion for racing, performance is central to Lohen's business. Many of its bespoke engineering projects are tested on its own race cars. This ensures that when road car users upgrade their own cars with Lohen parts, there is extreme confidence that these are going to add huge perfomance benefits and also handle the environment without truly trying.
Recently, our friends at FOUR have been working with Lohen to produce a series of audio upgrades. Based around the Audison Prima product, their brief was to deliver audio that is as exciting to listen to as Lohen's cars are to drive. You can read a full report on my visit in the next issue of Driving Sounds Magazine. In the meantime, I have to say that having had before and after experience of listening to these cars, FOUR is very much hitting the brief.
The standard system in a MINI is pretty basic, in line with BMW standard sound, it may just about pass the 1 minute showroom demonstration. Any longer and the problems are clear to hear. The bass is over accentuated with the vehicle stationary and swamps the mids. High end is pretty much missing altogether and with it any sense of any sound stage at all. Listeners are left with a mushy mess that has them reching for talk radio stations or background noise to cover over engine and road/wind noise.
Even the audio upgrade pack is sadly lacking in musicality. However, switch to Audison Prima and suddenly you get an audio experience you have to hear to believe. Not only is there strong musical bass with sub bass content too, the mids and high's are crystal clear. Clarity and precision combined with punchy mid bass helps get the most out of all kinds of music.
My thanks to Mark for showing me around Lohen's impressive site.