Issue VII Preview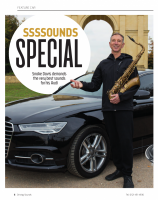 Driving Sounds Issue VII
Our latest issue is due any day now. Packed full with feature cars, product highlights and informative articles to help you decide on an audio upgrade that will astound you.
This issue features a great spread of vehicles from a Ford Fiesta to a Ferrari California with no less than two VW T5's with very different approaches in between. All of this is bound together with a passion for great music delivered in fantastic quality even in a car.
Watch out for the printed copy as that will coincide with the launch of the electronic version for those who prefer to consume their media in this way.
We very much look forward to sharing this last 12 months of effort with you very shortly.