Is it a boat, is it a fish?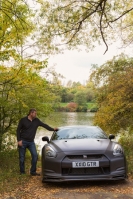 R35 Audio
Andy Sanders has been around high quality audio for most of his life. His father used to design and build valve amplifiers and speakers in the family home where he grew up. In fact, he encouraged Andy to join in and his first bedroom system included a valve amp of his and his father's design.
Andy's first car was a Mini and it seemed completely natural for him to put a sound system in it. His clinical attachment to high quality sound was never going to allow for anything else even at the tender age of 17. His next car was a Sierra Cosworth so we now see that cars are muscling in on his audio interests. Once again, Andy was told by the voice in his head to upgrade the audio and so it went on until eventually, as we all do, he grew up, got himself a house and a wife and a career in IT and settled down to ordinary life. never quite giving up on his passion for audio however, he instead focussed his listening on an impressive Dolby 7.1 home cinema system incorporating Monitor Audio and Bowers and Wilkins speakers driven by a giant Onkyo amplifier. He is an avid consumer of films with good soundtracks and insists on the highest quality Blu-ray renderings and has never been one for beating studio releases by watching illegal camcorder captured versions.
Some three years ago, Andy had an epiphany. He purchased a Nissan GTR and his life changed dramatically. Since then, he has dedicated his time to sourcing, building and designing accessories for his car and making them available to a worldwide audience via the internet. In so doing, he has once again rekindled his passion for car audio by designing plug and play systems that he can simply box up and ship to lucky purchasers. Anyone with even a passing knowledge of a car audio install will realise just how impressive this is and Andy has dedicated a lot of development time to these projects.
The success he has achieved to date has enabled him to indulge his passion for car stereo further upgrading his own car with a most impressive system. This one is not available as a plug and play option but is designed purely to indulge his own need for High Definition audio in his car. He has chosen to go with a Voce AV 5.1K five-channel amplifier. This runs a set of 3-way Hertz Mille legends up front in an active passive configuration. The woofers and mids are mounted in the factory positions while the tweeters are mounted in alcantara covered A-pillar builds which Andy made himself (is there no end to this man's talent?) The output of the standard head unit is processed via an Audison bit 10D processor but as well as using the standard system as a source, Andy has also integrated an Audison bit Play HD high definition audio server. This he has managed to get to run via the standard screen fitted to the vehicle utilising a spare rear view camera input. As far as he is aware, he is the first person to ever manage this (unless you know differently!). As the speaker positions exist, Andy has also incorporated Hertz High Energy mids and tweeters in the back shelf and another mid (HL70) is positioned in the centre channel position. These are run from a Hertz HDP4 amplifier. Andy noticed my raised eyebrows as he told me this and was keen to clarify that these were running at extremely low level but added important ambience and sonic texture.
Andy almost apologetically told me of his preference for drum and bass and dubstep music. This does not worry me at all. I am if nothing else, music genre tolerant and have been known to listen to such tunes myself. I have to say though, I have never heard drum and bass as impactful as in this car when driving from our photo location shoot back to the offices of FOUR UK Ltd. I don't have much hair left but the bass was so powerful that a physical memory of follicles long rendered inactive by age was stimulated to such an effect that it felt as if I was standing in a wind tunnel - Iron Maiden style! the main cause for this physical manifestation was the pair of perfectly cabinetted Hertz High Energy HX 300's on either side of the boot space. I used to have one of these beasts in a car of mine but two of them driven in parallel from the 1000Watt output of the Voce amplifier was just about the most exciting, powerful and yet musical bass experience I have ever had!
The system in this car is a complete triumph and you can read all about it in issue VI of Driving Sounds due out next year.
My sincere thanks go to Andy for bringing his car along for me to listen to. You can see what he does for a living at www.r35audio.com