Hertz Mille Pro - Sound beyond the norm!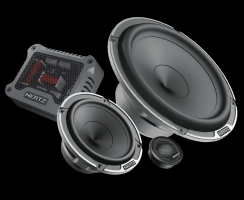 New from the Hertz stable is the new range of cut down Mille products designated as Mille Pro. Unlike Mille Legend, these speakers have been developed with tight budgets in mind. How is this possible? Hertz always works this way. They spend considerable money and time developing a product to be as best as it can by using state-of-the-art materials and technology. Once established in the market place, they will then use the perfomance of the product as a reference to develop a more cost-conscious emulation of that performance by finding new ways to achieve similar results.
Power and control are the important goals with this product and to this end, Hertz has utilised the same boundary-free surround as used in the Mille Legend products. This allows the cone to move further and displace more air. The extra long-throw of the coil and exceptional efficiency offers more power handling and more output per watt making these speakers the best match for extracting the full power of the Hertz HDP and HCP amplifiers. V-cone technology is used in order to maximise dispersion which is vital to obtain a good sound stage regardless of the often compromised mounting positions in a car.
An aluminium resonance-free basket has been developed to prevent any vibrations affecting performance. Timbre and balance is further characterised by freshly designed crossovers that utilise metalised polyester-film capacitors and air-cored inductors.
Mille Pro component speakers feature a tetolon domed tweeter with centre tuning duct developed using Finite Element Modelling software. This should give the tweeters a wide dispersion coupled with great accuracy and an "open" feel. The tweeter provides a very linear performance that will prevent the harshness of unwatned "peaky" resonances. Furthermore, the crossover features switchable 2.5dB attenuation providing users with the ability to tune the sound to their specifc tastes. 6 inch Component sets are shipped without grilles which are available seperately to save money for those who don't need them.
The Mille Pro range features four component sets including a two-way set with a 6" woofer optimised for more bass for those who prefer to ride without a subwoofer (MPX 165P). Given the performance of the astonishing Mille Legend 6" in this department, I am particularly interested in exploring this further with a listening test! Other sets include a 5" set (MPK 130.3) and a three-way set (MPK 163.3).
As well as the components there are two sets of coaxials including a two-way 6 inch and three-way 6 X 9 inch. Both are equipped with a "lens" mounted to the tweeter to avoid problem frequencies overtaking those desirable to perfect sound, due to the vehicle's internal acoustic properties.
Of course, many reading this may not get the importance of some of these parmaters and features and the proof of the pudding is always in the eating. For thsi reason, I would strongly recommend those who are in the market for a speaker upgrade to visit their local FOUR MASTER for a demonstration.
These speakers are available now and retail for between £154.99 for the 6 inch coaxials (MPX 165.3) and £359.99 for the three-way components set (MPK 163.3).