Hertz Mille Pro - Breaking through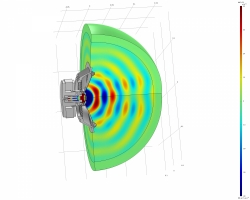 Hertz Mille Pro - Breaking through
Italian car audio manufacturer Hertz, is used to breaking new ground. Taking fantastic new technologies that have been trialled at the highest level and optimising for modern efficient manufacturing techniques. The new Mille Pro line is no exception, where the very latest innovations in speaker technology are compiled, edited and rearranged to offer the perfect compromise between price and performance. At the very high-end, such compromise is not always necessary as their exists, a hard core of music lovers who will pay whatever it takes to get the best sounding equipment available. For the mainstream, we may have to wait a little longer for leading-edge technologies to become available at a price we can afford.
The Mille Pro line conisists of four pairs of components and two pairs of coaxials and these will be supplemented by new subwoofers early next year. Woofers feature V-Cone technology. This refers to the profile shape of the cone. This has a somewhat deeper throat to accommodate the narrowing of the V shape. The V-Cone enables speakers to disperse their sound so that the listener still gets the full audio range even when listening off-axis (i.e. not directly in front of the speakers) This technology has proven itself over time and is a major corrective for badly planned speaker positions in the modern car - Many of which point towards the knees or ankles of the front-seated residents. The cones themselves are constructed from compressed paper pulp which have cotton fibres added to provide extra stiffness while remianing lightweight. The profile shape was developed using sophisticated computer modelling to optimise mid-range frequencies. The baskets or chassis of the Mille range have been specifically designed to avoid any possibility of resonance affecting the natural open sound of the speakers and are aerodynamically shaped to cancel any possible negative effects from backwaves. A boundary-free surround has allowed Hertz to build in extended excursion. This helps with the dynamics of the speaker as more air movement is available. This in turn leads to better power handling and more control which gives the woofers a lot of scope for producing low tones and astonishing separation.
Tweeters are centre-ducted. A hole or duct is included in the center of the tweeter and exits to a dampened chamber. This ensures better forward projection of high frequencies and a virtually resonance-free result that negates any danger of the phase distortion which is almost guaranteed with factory fitted tweeters! Another major benefit is the low frequency reach which enables crossover points to be set low. This helps to lift the stereo image by ensuring that more directional information is handled by the tweeter rather than the trouser-pointing woofers. A Tetolon soft dome tweeter cone is now standard amongst Hertz products, as it has proven time and again to provide a rounded, yet highly detailed result without any sense of harshness. A large neodynium magnet offers high power handling capability particularly important when listening to music containing high transients. As with the woofer, dispersion has been given all of the attention it deserves with a specifically designed faceplate that helps to throw the sound out wide rather than in a narrow beam which may miss your ears altogether as is the case in some cars!
Crossover networks are an art in themselves and as always, Hertz has put a lot of effort into ensuring that crossover points are handled by high quality components that guarantee a stable and linear response especially at those critical crossover frequencies. Of course, if you choose to run these activiely using individual amplified channels for each woofer and tweeter, then the world is your oyster as far a tuning the system is concerned. Having said this, Hertz has always provided first-class crossovers for passive systems and these are no exception. An attenuation switch is incorporated in the crossovers which come with the two and three-way systems, to allow installers some level of control to compensate for mounting positions and of course, personal listening taste.
The entire range can be viewed in detail here: http://www.fourcaraudio.co.uk/brands/hertz/hertz-mille/ with the model numbers suffixed with the word "PRO". Hopefully by the time we go to print, we will have been able to listen to some. In the meantime, I remain excitied in anticipation as I don't think I have ever been disappointed with the performance of a Hertz product!