Grand prize draw winner ecstatic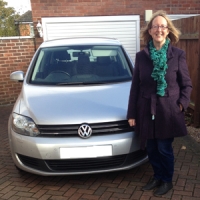 Sue Johnson and husband Alan decided to take a trip to Oulton Park in August to take in the atmosphere, petrol fumes and music of the Children in Need Fund Raiser, CarFest North. The event itself appeals to many interests with air displays, food from around the world, a retail village and many specialist interest stalls and activities as well as the all important "drive by's" and of course the music. Driving Sounds magazine has supported the event twice now. We believe we add a little colour but also a very different experience for the car driving music lover. Our previous attempt saw us succesfully giving away copies of Driving Sounds issue III and demonstrating two BMW 1-series, one with an audio upgrade and the other as standard. Our stand featured some very loud cars and these did not go down well with other traders although I have to say, the general public had a ball, particularly during rain showers when they could come and shelter while bouncing around to all manner of music.
This year, we wanted to provide a more intimate experience and so we left the noisy cars at home and instead took two BMW 2-series and our favourite Porsche 911. All of these had systems installed of differing levels and our focus was on High Definition music. Just like high definition TV, HD audio reveals spaces between the sounds, not observed during usual listening and on reflection this was probably a much more subtle demosntration than the event justified. However, we had a great time and all of those who had a demonstration were encouraged to enter a prize draw to win a system for their own car. Most of our visitors had never heard anything like it while many expected something from the 90's or early noughties when car audio carried a loud voice amongst the younger car driver. All were impressed with the clarity and dynamicism of the reproduction.
In Spetember we drew Sue Johnson's name out of a rather large hat and arranged for her to visit FOUR MASTER Car and Home Stereo in Macclesfield for a consultation. Sue lives on the Wirral peninsular (fire away pedants!) so, didn't have to travel too far and was in a position to leave her car with Car and Home and the very capable Tim Campling to have an installation done. Tim tells us he knew exactly what equipment to recommend once he had spoken drectly with Sue. The music she listens to almost specified the equipment itself and so Tim went about installing a system comprising a Hertz HCP 4D 4-channel amplifier connected to a pair of Hertz ESK 165 speakers and a Hertz Bass Baby compact ported subwoofer that sits in the boot and in the words of the informed, "bangs". We had originally offered a bit Play HD as part of the prize but Sue and Alan were not ready to embrace downloaded HD music files yet. They were also quite happy with the factory installed head unit and its functionality but did want some cheeky bass!
Tim applied a good deal of Skinz sound treatment to the front doors. He told me; "Once set up, the system sounded really good in this car. I used a lot of sound deadening and spent a while setting the amplifier up to get optimum performance from the speakers. I also tried to compensate for the easing of the speakers once they are run in although, I have offered Sue the chance to bring the car back for another set up after some hours playing time. It was really good to see Sue's expression once I had demonstrated the system to her and her amazement that she was getting all of this without having to pay me anything! most rewarding."
When I first contacted Sue, she was taken aback exclaiming; "Wow. Can't believe we've won. Thank you." Once she had collected her car I recontacted her to find out how it went; "We are real music fans so winning this is fabulous." she responded. "I've found different tracks that sound amazing with the clear, clean sound and terrific bass (big woofer in the boot!). The clarity of sound is truly amazing, although I might be a traffic hazard now, as I get so excited listening!"
This is all heart warming stuff from our point of view, and I can't wait to meet Sue and Alan at Car Fest 2016 for a further update to their changing listening habits!
Top Five Driving Sounds:
Another one bites the dust - Queen
Money for nothing - Dire Straits
Running in the family - Level 42
Innocent man - Billy Joel
Living on a prayer - Bon Jovi