Good Evans!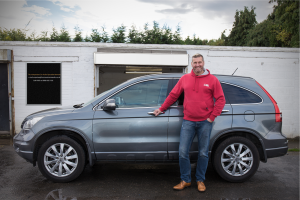 Good Evans
Geoff Evans likes his cars so much he tends to hold on to them for a long time. His latest vehicle, a Honda CRV, has received the expert attentions of FOUR MASTER John Kleis not just once, but twice as Geoff's musical taste and commitment to listening is influenced by Driving Sounds Magazine.
I first met Geoff at the 2016 New Forest Show. He came to the event specifically to meet Driving Sounds as well as John Kleis demon installer Simon. Geoff was keen to tell us how pleased he was with Simon's work and how much he enjoyed the magazine. It was only later that Simon explained that Geoff had decided to replace his recently installed Hertz ESK 165's with a 3-way set of Hertz Mille Legends after reading about them in Driving Sounds Magazine.
So it was, some two months later that we contrived to meet up at FOUR MASTER John Kleis in Reading to have a listen with a view to covering the car in the next issue of the magazine. The car was undergoing a set up following the pre requisite "playing in" time which often sees speakers "relax" and require a bit of a tweak to re optimise performance.
I have become a big fan of Hertz Mile Legends and was keen to get my ears in straight away and threw a couple of tracks at the system from a compilation CD I always carry with me. I was immediately struck by the depth of image as well as the definition in the high and mid frequencies, which gave the snare drum extra zing and ensured startling attack at the front edge of cymbal hits.
Sporty Geoff is Newbury born and bred and went from school to a 3-year apprenticeship in the then buoyant print trade. Print has seen a dramatic slump in recent years and Geoff took the brave decision to retrain and now operates an automated thermal building block fabrication plant.
Geoff admits that he did not particularly get swept up by going to see favourite bands play live. In his youth, he did however, frequent clubs in Ibiza and beyond and enjoyed the effect that the music had on a good night out. Although not an audiophile at this stage, he has been moved to upgrade the audio in all of the cars he has owned with particular interest in boosting bass performance. This is an incredibly common motivation and is borne out of the lacklustre (I am being very kind here) performance of standard fit car audio in this key area.
It is only latterly that Geoff, has been as emotionally affected by the rest of the audio spectrum. In this internally spacious vehicle, Geoff felt he wanted to fill every nook and cranny with audio excellence and so visited John Kleis who had previously given him good advice and exceptional service and asked for a recommendation. He had a specific budget in mind and the system was designed to accommodate this. The original system comprised two pairs of Hertz ESK 165's and an obscure American branded 10" Subwoofer/tuned box combo. The speakers and subwoofer at this time, run by a single Hertz HDP 5, 5-channel amplifier.
Although fairly satisfied, Geoff had begun to read issues of Driving Sounds Magazine and discovered some of the music that we have used while auditioning systems. Along with his exploration of new musical genres, he wondered what difference he would notice if he invested a little more in his already competent system. He returned to John Kleis to talk about a front-end upgrade. He had his heart set on a pair of Hertz Mille components and was interested in exploring whether a 3-way set could be accommodated in a vehicle with mounting options for 2-way. He was in luck as the installers at John Kleis provide first class fabrication skills, and they were able to convince Geoff that they could remake his A-pillar trims to accommodate a 70mm mid-range driver.
An additional amplifier was added to drive the speakers in the rear doors (Hertz HCP2) freeing up two channels of the HDP 5, enabling the front 3-ways to be driven in Passive/Active mode. In other words, a passive crossover (a pair of which have been cunningly secreted away behind the glove box) is used to drive the mid-range speakers and tweeters while a pair of dedicated channels is used to drive the woofers. This configuration allows the system to be fine-tuned to optimise the stereo image as well as Geoff's taste for bass/treble balance.
Geoff had already expressed a broad taste in music. Alongside his dalliances with 90's dance, he got through his formative years with the help of The Police, Level 42 and Dire Straits.
As a slight departure to previous issues of the magazine and to reflect the importance of using a car owner's usual material to get to the bottom of sonic performance, we are using Geoff's own top five to review his system. Geoff prefers to listen to Spotify Premium files. Although perhaps not quite as good as CD, enjoyment is definitely not affected by Geoff's choice of listening medium. You will have to wait until the next issue before seeing the results however.
I will tell you that Geoff's Top Five demonstrates the full high's and lows of his system. Simon has done a great job to make it sound so good despite the comparative lack of processing tools to help him.
Huge thanks go to John Kleis and Geoff for allowing us to get in their way for more hours than we intended. Well done to everyone involved in the creation and delivery of this most excellent system.
Geoff's system:
Pioneer headunit
Hertz HDP 5 Amplifier
Hertz HCP 2 Amplifier
Mille Legend MLK 700.3 – 2-way set with high/mid crossover
Mille Legend ML 1650 – 6.5" woofers
10" subwoofer in reflex ported enclosure
Skinz sound treatment products
Connection cables, wiring and accessories.
Geoff's Top Five
I Can Explain - Rachelle Ferrell
If You Wait - London Grammar
Private Investigation - Dire Straits
The Time Machine - Jean Michel Jarre
Cold Shoulder - Technimatic