Driving Sounds Magazine Issue VI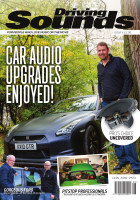 Driving Sounds Issue VI is due for launch toward the end of May and promises to be the best issue ever! Our established team of writers, designers, copy-checkers, executive editors, publishers and ad sales team are even as I write this, busily beavering away honing new content for the magazine.
Those who have diligently read every monthly news bulletin will have seen sneaky-peeks of some of the content including some fantastic cars, product reviews, technical explanations and hints and tips on how to "unpick" the music you listen to, to gain a deeper understanding of what the artist wants you to hear. However, if you have missed anything, you can always go to the "CLUB" page of our awesome website (www.drivingsounds.co.uk) and sign up for special and priviledged entry into our club area. As you are already Driving Sounds Club members, getting in is easy and once there you will find every newsletter from the past two years archived. You will also find all of the sneaky-peeks we have treated you to.
Brand new for Issue VI, we thought it would be nice for readers to be able to bring selected articles to life and have therefore, created some video content that can be reached by scanning an on-page QR code or viewed as standalone content by online Club members. We are still developing the skills to make this content even more meaningful and trying to find sedatives to keep our camera-shy editor in a fit state to speak.
Issue VI features no less than nine cars including; BMW's, VW's, Audi's and a DIY installation in a Ford Focus. DIY I hear you exclaim! Well, almost, the installer does actually work in the car audio industry it is just that he built this install all by himself and in his own time so it is likely to be as close as we get to a DIY installation article. Our usual features on the nation's greatest installers include two brand new FOUR MASTER's as well as an industry stalwart who, continues to push the boundaries due to his infinite curiosity.
Our sound features include a piece on mid-range frequencies and tries to cement in these movement-inclined goal posts. We also expand on the idea that you can achieve proper hifi sound without the need for a subwoofer although, subwoofer owners do tend to have a bit more fun!
If you have never seen a copy of the magazine, past issues are still available as PDF downloads and some paper copies of more recent issues are still on sale. The earliest articles are available as free downloads so that you can get a flavour of how the magazine is written. This is important as many people baulk or even quite rudely yawn when faced with the prospect of reading pages of technical specifications. We don't do that. Instead we tell real life human stories that explain the motivation of drivers to upgrade the sound in their vehicles as well as highlighting specific product we have listened to and think are worthy of our praise.
So, sign up, read up and look forward to the Launch of the latest issue toward the end of May. Next month's broadcast will bring you details of how to secure your copy of Issue VI - Copies are limited so, it is well worth being a club member just to get first dibs on what we know will be a cracking read.