Dacia With Clogs On?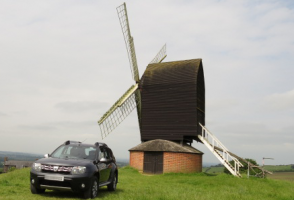 Having recently picked up a used Dacia Duster to replace my aged Renault Scenic and put up with the dreadful mush provided in the name of entertainment for a couple of weeks, I quickly pleaded with Karl of FOUR MASTER, Ultimate Audio, to save me from a fate worse than sonic mediocrity! Beforehand, I had discussed the issues with the standard equipment with the incredibly experienced and enthusiastic boss of FOUR CAR Audio, Brian Parton.
I was very keen on having a system installed which was befitting of the vehicle. Brian and I have often discussed the 10% rule, in fact, I think we invented it! This principle is based around a belief that spending 10% of the cost of a new vehicle with an aftermarket car audio company such as a FOUR MASTER, would result in 50% more driving pleasure. Unfortunately, many purchasrs of new vehicles are far exceding this ratio and ending up with something just as bad as the standard rubbish. This makes it harder for a proper audio expert with a wide portfolio of excellent products to open a conversation about a further upgrade.
Brian was already aware that I have always been incredibly impressed by the performance of Audison Prima products. You may have read a piece we wrote in the last issue of the magazine where I reviewed a Ford Fiesta with a simple Audison Prima speaker upgrade (read the full article here: https://www.drivingsounds.co.uk/articles/driving-sounds-issue-7/fiesta-made-of-stone/ ) Carrying many breakthrough technologies developed to compensate for inherently poor speaker positions, it was truly difficult to point to the mounting positions while listening with eyes closed (try that in your own car!)
Brian urged me to go for a Prima system throughout and so it was, that I booked into Ultimate Audio in Bromsgrove. I was concerned that the 5" speakers may leave a hole between low mids and bass, even though I had opted for the compact Audison Prima APBX 8 DS subwoofer. As standard the Duster is fitted with solitary 5" drivers and no tweeter. The 5's are not coaxial and not even dual cone so absolutely no provision made for top end reproduction. This was far less of a concern for me as there is a large flat area of plastic cover covering the wing mirror gubbins, which was ripe for surface mounting Prima tweeters. We had chosen to go with the Audison Prima AP 5.9 bit amplifier. We would configure this to run a pair of AP 5 woofers and AP 1 tweeters actively and still leave a channel to drive the highly efficient subwoofer.
I am looking forward to reporting on this install in the magazine and will keep my powder dry until then. In the meantime, there is a living clue as to what I think of it presented across my face everytime I get out of it! My smiling muscles have developed stupidly since the installation was completed and although I may just have missed the mark on the cost of installation, I would have made it if I had purchased the vehicle new.
Much more to be said in print very soon!