D-Class Power Ranger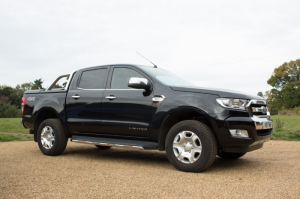 Justin Murray is man of taste. He loves music and is never satisfied with the factory standard sonic noise that emanates from most cars from new.
His Ford Ranger was originally intended to be a weekend pleasure vehicle but, it has taken an increasingly central role in carrying family around throughout the week too. Great fun to drive and thanks to a system installed by FOUR MASTER, Norwich In Car Entertainment (NICE) also a very entertaining listen.
At the heart of this system is a Hertz HDP 5 amplifier salvaged from a previous vehicle. Justin is a habitual leaser of vehicle's and every car that passes through his hands has an audio upgrade. Having spent an educational day with Justin, I can tell you his taste is eclectic and ranges from soft acoustic folk rock to banging club anthems and just about everything in between and beyond.
With this as a brief NICE were quick to recommend the ear-friendly Audison Prima speakers. These suit a huge range of musical genres and are a perfect match for the sonically accurate 5-channel HDP amplifier. In this install the Prima's run actively. This is made possible by the inclusion of the very excellent Hertz H8 processor which allows accurate active crossover as well as time alignment and endless equalisaton opportunities. The addition of a remote control means that Justin can switch betwen set-ups for different genres as well as offering immediate subwoofer level control.
Even though the vehicle looks huge, it does not have a huge amount of space inside and therefore, clever use of space behind and underneath the rear seats was necessary in order to secrete away the processor and amplifier as well as housing a custom-built enclosure for the Prima 8" subwoofer which pumps out far more bass than seems feasible.
I thoroughy enjoyed meeting with Justin and listening to this excellent car and we look forward to bringing you the completed article in issue VIII of Driving Sounds Magazine!