Audio Enriched Audi's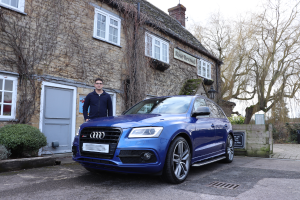 On a gated driveway in rural Oxfordshire are parked two special Audis. The first is a RS 6 in half and half black and white livery. The other is an electric blue SQ 5. We were tipped off about the cars by FOUR MASTER, Oxford Car Audio (OCA) and kindly invited to have a close look at two very different installs.
The RS 6 has two Hertz Mille ML 2000.3, 8" subwoofers installed, but you have to look very closely to see them. They are powered by an Audison VOCE uno amplifier and installed in a way that leaves the vehicle as unaffected as possible. This has been achieved by utilising the spare wheel well and building a false floor on top of it. The false floor robs the minimum amount of space from the massive luggage compartment and unless you are very familiar with the vehicle, would hardly be noticed! Unnoticed that is until you power up the system. Suddenly, you are presented with thunderous bass. The amplifier is run directly from the standard head unit that has an active sound curve that reduces bass with speed. This is to preserve the less than adequate speakers fitted in the doors. The grilles carry the Bose brand, but as we know, it is very unlikely that they have been anywhere near the speakers. More likely they spent their time and money trying to force the standard speakers sound "musical" through electrical trickery.
OCA has plenty of experience in finding solutons to such problems and in this car, they employ an AudioControl LC 2i line convertor to do this. The LC 2i contains a patented technology called AccuBASS, designed to restore missing bass from full range signals. We covered this technology in a blog last month. You can stilll find it right here: https://www.fourmasterscaraudio.co.uk/caraudio/bass-restoration/
Although completely out performing the standard speakers, the subs and amplifier provide bass that is miraculously well blended to the rest of the soundscape. The car is at least great fun to listen to and sure to be a huge improvement on the system as presented by Audi.
The SQ 5 is a very different kettle of fish! A huge amount of work and product has gone into this vehicle. The front 3-way component speaker system has been replaced with Mille Legend drivers. The vehicle is blessed with an increasingly popular 7" woofer mounting, which is now occupied by a pair of Mille ML 1800.3 woofers. These are extremely solidly built and even without the subwoofer treatment, they reach very low and are capable of high levels of bass. The original mid-range speakers sit up on the dash and these have been replaced with matching Mille ML 700.3 while a pair of Mille tweeters have been treated to new fabricated mountings that fit neatly inside the wing mirror gubbins. This is a great arrangement and it means the tweeters and mids are in close proximity of each other, which massively reduces phase anomalies in the upper reaches. Rear spekars have also been replaced with a Mille Legend 2-way set.,
Opening the rear hatch, the full impact of the install shows itself in unabashed glory! Four Audison Voce amplifiers are presented angled two on each side wall with four gleaming Mille Legend 2000.3's sitting on the floor. The whole build is beautifully trimmed with teh rear looking perfectly symetrical. The final element of the install is an Audison BIT one HD sound processor. This state-of-the-art piece of electronics allowed OCA to shape the sound to owner Anthony's specific tastes.
You will have to wait for the finished article to read how the result sounds. In the meantime, we can tell you that this is by now means a "shy" system. Projection and dynamics are stunning even at the hightest levels yet there is nice balance and no distortion even when turned up to 11!