5-Series Facelift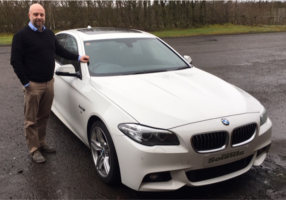 This fantastic BMW 5-series demonstrator is driven daily by Lee Preston who is an area manager for high-end car audio distributor, FOUR. Having had a few seasons equipped with a selection of Rainbow speakers and amps, it is time for a facelift. A spanky new Hertz Mile system has been installed for the new show season. We felt it best to let Lee express his views on the new system, as he has had the most experience of driving the vehicle with both the Rainbow and new Hertz Mille systems fitted.
Lee's thoughts on first audition (speakers are all run in, as they were previously used in our Audi A7 demonstrator):
"Having used the 5 Series now for over six months, I had become very used to the amazing sound of the Rainbow Profi system.
The decision was made to change the audio system to products that are more installer friendly. If I am completely honest, I was not looking forward to saying goodbye to the Profi tweeters. I had grown extremely fond of them and at around a third of their price, whilst the Mille Legend ML280.3 tweeters are range toppers themselves, I had concerns that they just wouldn't come close to matching the accuracy of the Profi's - How wrong I was!
Having spent a few hours on a quiet Saturday afternoon using Bit Tune and our ears with a hugely diverse range of music, Reece (RTA Car Audio) and I managed to tune the system to a level that we both agreed worked well.
The Legend tweeters are amazingly accurate, in fact not dissimilar in sound to the Profi, making them extremely good value. The ML700 mid-range speakers produce a warm but very punchy midbass that is especially noted when playing 'Ride Across the River' by Dire Straits. The drums throughout this track are reproduced perfectly, with a powerful but pleasant kick – close your eyes and you could be there in a small recording studio with the band (Recorded at Air Studios on the now abandoned carrabean island of Montserrat, this studio was pretty big actually - Mr. Know-it-all Editor.). Vocals come across extremely naturally on all tracks, especially 'Save Me' by Aimee Mann where the time alignment from a Hertz H8 DSP sets the stage beautifully. Oh and just listened to the first few minutes of 'Unforgiven III' by Metallica.... accurate smooth tweeters, perfect mid range and superb impact from mid and midbass.
The bass response from the Audison S8-4 under seat woofers is more than enough to satisfy all but complete bass heads, offering a smooth and relaxed bass, producing low frequencies just how I like – very much present, but not overpowering. These speakers were fitted on the original system, but their power is now provided by the mono channel of the Mille Power 5 (2ohm 550w rms), and this really is an improvement.
The amplifier is an extremely powerful and compact unit, that has improved the dynamics and impact of the overall sound. When listening to Heavy or more upbeat music, the system really does come to life. The word 'impressed' really does this amplifier an injustice, it is simply amazing. I will be ensuring that my customers that have yet to experience this range get their hands on these asap, as pound for pound, I feel these are some of the best amplifiers available today.
All in all, I am very happy with the experience, and think that for the budget, you would probably struggle to do better for an audio system in a BMW ."
One of the challenges with this kind of install is in accommodating speakers in a way that is sympathetic with the vehicle. The design and finish in a 5-series is of very high quality. Fortunately RTA Car Audio are extremely competent and fabricated both the speaker mounts for the ML 700.3 mid range and the new tweeter pods which look as if they were designed in by BMW. Marvelous work!
Look out for news of where you can hear this magnificent beast!